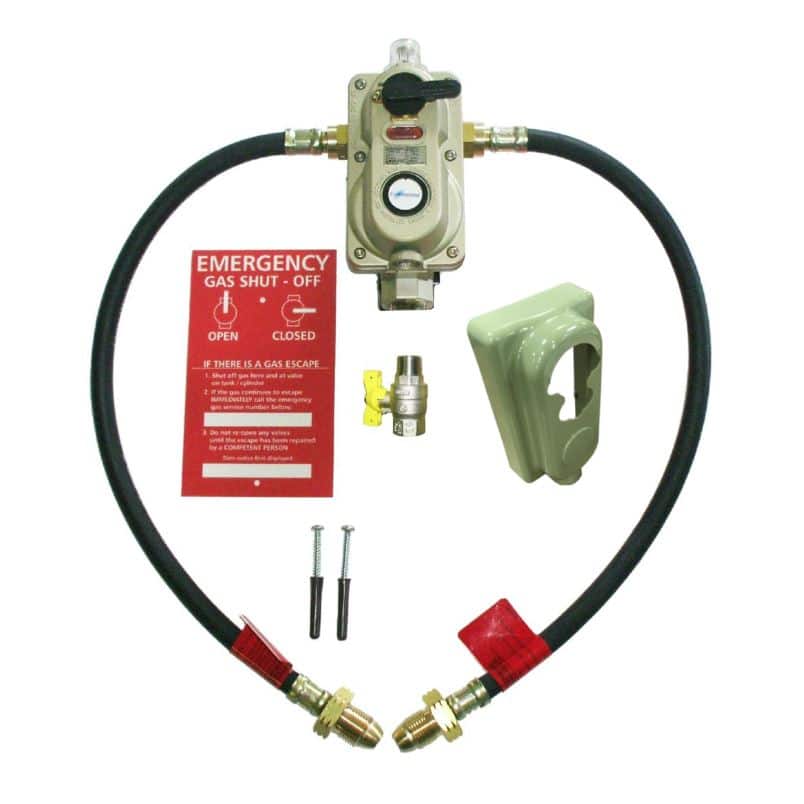 ZMB2C-OPSORF-TP
RF6030 2 CYLINDER / BOTTLE AUTOMATIC CHANGEOVER GAS VALVE WITH OPSO
The Continental RF6030 Automatic Changeover is widely used and stocked across the UK. An automatic changeover ensures a continuous gas supply to the appliance/installation and automatically switches from the supply cylinder to the reserve cylinder, so you never run out of gas. This specific changeover comes with an OPSO valve (over pressure shut off valve), so should the pressure get too high in the system, the gas supply will automatically cut-out to ensure safety in your premises.
Once set up, the black lever handle will point to the supply side, and when the supply cylinder runs out of gas, the changeover will automatically switch and take from the reserve side. It is at this stage that the window will turn red and you will need to turn the dial to point to the correct side the changeover is now taking from.All of the Continental gas changeover range is suitable for use with propane running at 37mbar, although there is full engineer pressure adjustment for those jobs that need a little bit of tweaking.
£80.04
Automatic changeover regulator
Bracket & screws
2 x 20″ excess flow & non-return propane x W20 pigtails
Pigtail hoses conform to BS3212/2 / using EN16436-1 (Class 3) hose
1/2″ male x 1/2″ female outlet ball valve with test point
Emergency instruction plaque.
Plastic weather cover
Certified to BS EN16129
12 Month Guarantee
You will find your packages in safe hands with our courier partners UPS and DX Freight.
For all standard sized items (ie singular meter boxes, hoses, changeovers) we will ship with UPS. You can track UPS orders here: – www.ups.com/track and for bulky items we will ship with DX and you can track your package here: – https://my.dxdelivery.com/
ESTIMATED SHIPPING CHARGES
STANDARD  –  2 to 5 Business Days  –  £7.50
NEXT DAY  –  24-48 Hours (must be placed before 1pm to get next day)  –  £10.00
HIGHLANDS & ISLANDS  –  2 to 5 Business Days  –  £15.00
FREE DELIVERY  –  2 to 5 Business Days – Over value must be over £75.00
Please note this is a weekday service on orders placed before 1pm ( Monday to Thursday).
If you have selected Next Day Delivery, orders placed after 1pm on Thursday will be delivered on the following Monday. (provided it is not a bank holiday).